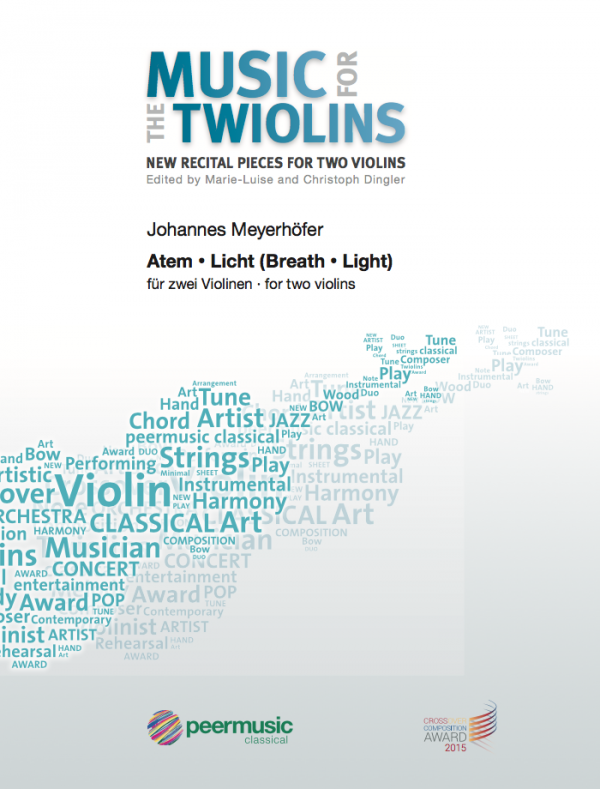 VAT exempt according to UStG §19
Johannes Meyerhöfer: Breath – Light
Score and single sheet music.
Bringing some fresh air in the chamber music scene and reviving the classical music – that was the goal of Marie-Luise & Christoph Dingler, when they originated the Progressive Classical Music Award (PCMA – former known as Crossover Composition Award. The competition is held every three years to expand the repertoire for  two violins. In the years 2009 and 2012 it has met a positive response with each about 100 composers from 16 countries participating. In 2015 more than 350 composers from 45 countries took part.
The competition is seeking music which "gets under the skin and sweeps the audience off their feet" . Whether using virtuosity or great emotions– it's the  composers' choice. Only one  formal condition: The work should last about 5 minutes. The Competition rules have  been designed flexible intentionally to allow creation of  new music with contemporary emotions. This diversity of styles is supposed to contribute to a sustainable development of the classical concerts and audiences.
During the PCMA the audience is directly involved in the running of the competition. After a pre-selection by a representative jury, consisting of established musicians, composers and conductors, six finalists advance to the  grande finale: All selected works will be  premiered by the Twiolins and the audience (300 – 400 attendees) then votes on the awards.
The winners, often young composers, receive prize money totaling 11.000€ which can support their studies/career. The compositions are published by internationally renowned publishing houses: 2012 and 2015 Peer Music, 2009 Ries&Erler. Additionally they will be recorded on a CD by the Twiolins: 2011 VIRTUOSO, 2014 SUNFIRE, 2017 SECRET PLACES.