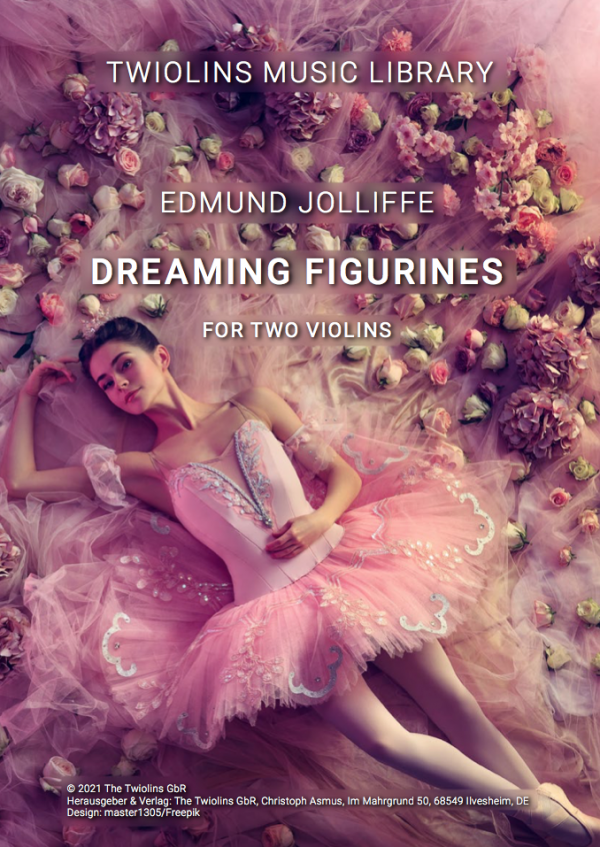 15,00 €
VAT exempt according to UStG §19
Download: Edmund Jolliffe – Dreaming Figurines
15,00 €
Score for 2 violins, edited by The Twiolins.
---
The figurines were in the shape of ballet dancers in a music box. When the box was opened and the tune was played, the figurines slowly rotated. But when the box was shut they dreamed of another life, where they were free to dance wildly.
"Dreaming figurines" by Edmund Jolliffe won the 3rd prize at the 2019 Progressive Classical Music Award.
---
Bringing fresh air into the chamber music scene and revitalizing the classics was the aim of the Twiolins when they launched the Progressive Classical Music Award (PCMA). The PCMA was initiated in 2009 by The Twiolins (Marie-Luise & Christoph Dingler) first under the name Crossover Composition Award, to expand the repertoire for the instrumentation of two violins. Since then, every three to four years they have set a special task for contemporary composers: to compose new music for two violins, which gets under your skin and leads you to storms of enthusiasm.
The competition has deliberately been openly designed to allow novel music to emerge with contemporary emotions. This in turn should contribute to a sustainable development of the classical concert and audience.
---
About:
Edmund Jolliffe (UK) studied music at Oxford University and completed a Masters in Film Composition at the Royal College of Music, under Academy Award Winner Dario Marianelli. He also studied on the Advanced Composition Course at Dartington International Summer School and has completed artistic residencies at the Banff Centre, Canada and the Wurlitzer Foundation, Taos, New Mexico. Recent commissions include pieces for The London Festival of Contemporary Church Music, The London Gay Men's Chorus and pieces for OUP's 'Flexible Choral Songs'. His large scale piece 'Sleep Cycle' will be premiered in October 2019 by The Nonsuch Singers. This year he was awarded first prize in the 40th Ithaca College Choral Composition Competition and has also won the Renée B. Fisher Composer Award and the Amadeus Song-writing Competition. His music is published by OUP, Stainer and Bell, Banks Music, ABRSM, Reed and Recital Music. Music for TV includes the BBC 1 series 'Who do you think you are?', the ITV series 'Long Lost Family', Channel Four's 'Unreported World' and the Discovery series 'Homestead Rescue'. He recently scored 'Prince, Son and Heir – Charles at 70' which was shown on the BBC and all over the world.