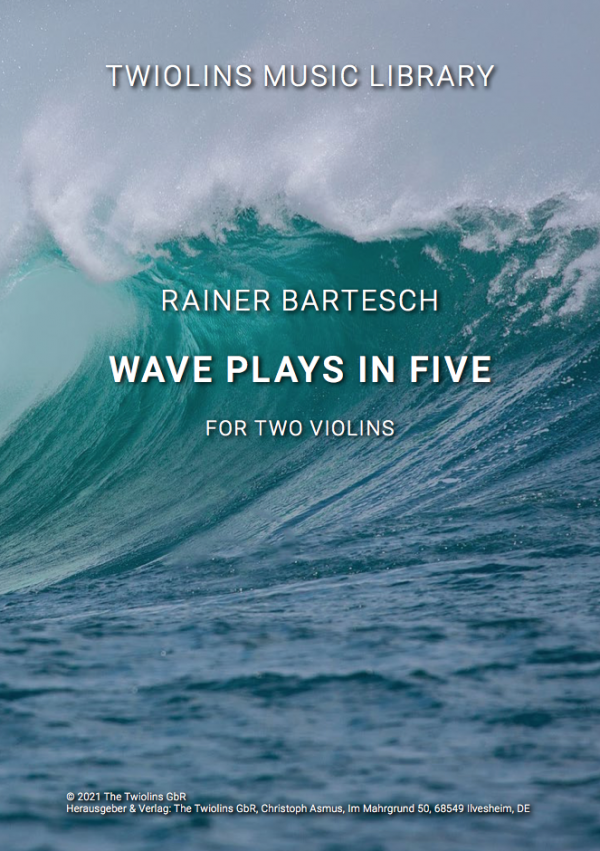 15,00 €
VAT exempt according to UStG §19
Download: Rainer Bartesch – Wave plays in Five
15,00 €
---
Bringing fresh air into the chamber music scene and revitalizing the classics was the aim of the Twiolins when they launched the Progressive Classical Music Award (PCMA). The PCMA was initiated in 2009 by The Twiolins (Marie-Luise & Christoph Dingler) first under the name Crossover Composition Award, to expand the repertoire for the instrumentation of two violins. Since then, every three to four years they have set a special task for contemporary composers: to compose new music for two violins, which gets under your skin and leads you to storms of enthusiasm.
The competition has deliberately been openly designed to allow novel music to emerge with contemporary emotions. This in turn should contribute to a sustainable development of the classical concert and audience.
---
About:
Rainer Bartesch (Germany), born 1964, studied horn, teaching and composition for film and television at the Munich Musikhochschule. He worked for several years as a hornist with renowned orchestras, including the Sächsische Staatskapelle conducted by Giuseppe Sinopoli, before deciding to embark on a career as a composer and conductor.
The spectrum of his compositional work ranges from concertante classical works to sacred music and music theater to film music including rock, pop, jazz and sound design. He has set over 100 films to music.
As a conductor, he has recorded over 20 orchestral film scores, including "Nowhere in Africa", which won an Oscar in 2003. He himself plays over 40 instruments – mostly in the recording studio – but also gives concerts with various orchestras in Europe and the USA as an alphorn soloist, for which he had to create his own repertoire because there was none.
In 2007 Rainer Bartesch won the 1st prize for new sacred music at the BR competition Paradisi Gloria in Munich, in 2009 the Silver Edda and the Audience Award at the Pyromusikale in Berlin, in 2010 the Rolf-Hans Müller Prize for the film music for "Erntedank – ein Allgäukrimi" in Baden Baden and in 2016 the Audience Prize at the film festival Flimmern&Rauschen in Munich. Rainer Bartesch has been a member of the European Film Academy since 2015.